Choosing the right type of decking for your garden
Friday, 1 July 2022 | Admin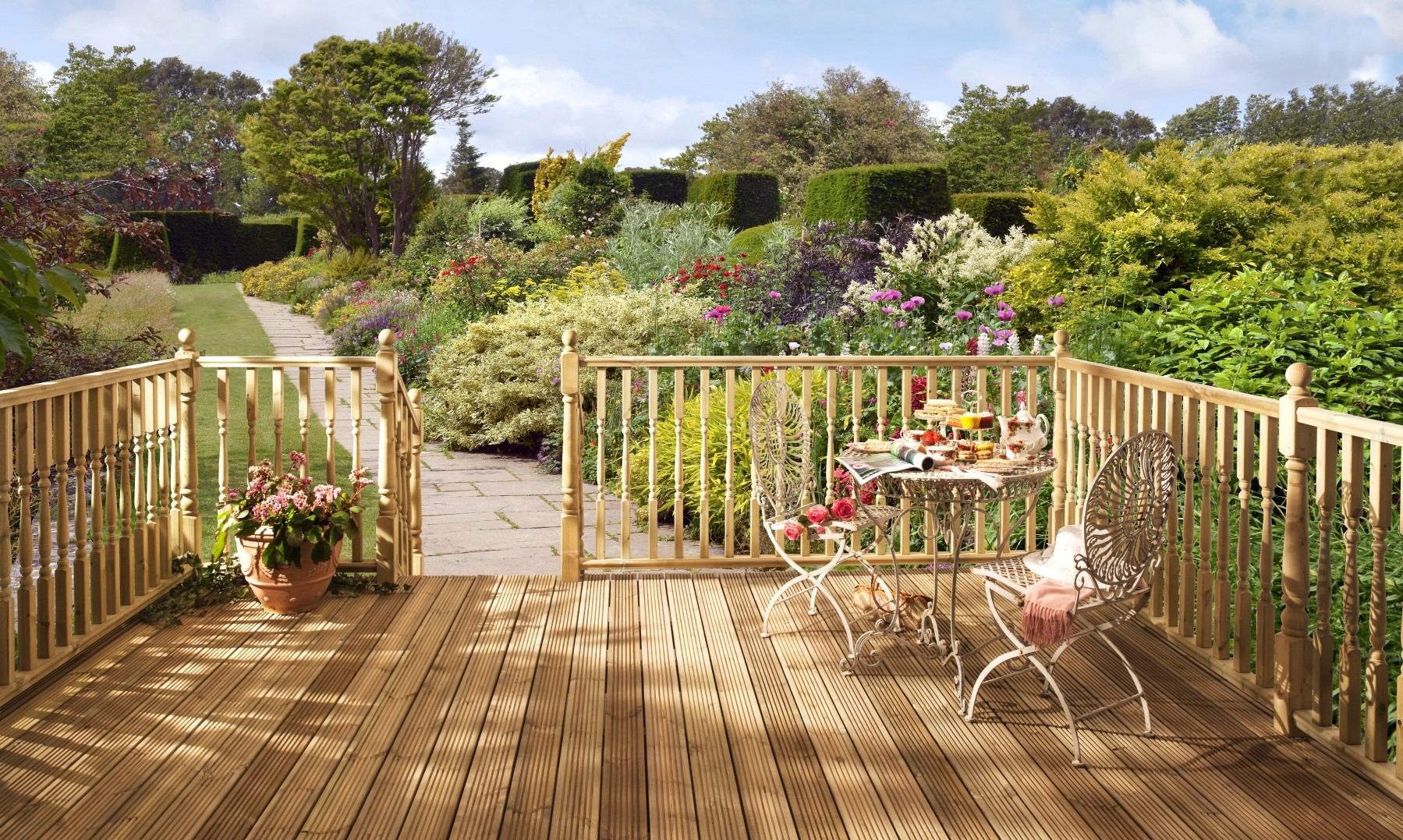 A well-appointed decked area is a great way of transforming your garden into a practical, usable and beautiful space which allows you to make the most of any outdoor area. It can create the ultimate space to relax, entertain friends and family, and enjoy those long summer days that stretch long into the evening. With many different types of decking, with different properties and price points, it can be difficult to choose the right decking for your space. In this blog post we will explore the benefits of the three main types of decking, to help you choose the perfect material for your job.
Softwood
Softwood decking, which typically comes in Pine or Spruce, is by far the most popular and cost-effective choice of decking. It's readily available in a wide range of sizes and groove profiles. Softwood is easy to work with for the average DIY-er, it can be cut and machined with basic tools and requires no special fixings or clips to install. It's also available with an extensive range of accessories, such as newels, spindles and handrails. Softwood decking comes pressure treated offering a resistance to rotting and insect attack, however due to its porous composition, it requires a certain amount of maintenance, including re-staining every few years.
A new development in softwood decking is Thermowood. Through an innovative heat treatment process using no chemicals, only steam, the moisture content of the timber is reduced resulting in a decking that resists water ingress in the future. This reduces expanding and contracting that often results in distortion. Two nice by-products of the heat treatment are a lovely soft feel to the surface on the timber and a warm brown colour meaning no need for staining. Thermowood is becoming an increasingly popular choice as it offers a significant advantage in durability over standard softwood decking with only a modest uplift in price.
Hardwood
Yellow Balau is the most common timber used for hardwood decking. Thanks to its denser composition and high resin content it naturally resists rotting and thus is more hardwearing than softwoods. Hardwood decking requires less maintenance and doesn't need pressure treatment or regular staining. Its rich, dark red/brown colour offers a luxurious, quality feel which makes it perfect for creating a focal point in the garden, creating maximum affect with minimal upkeep.
Composite
Composite decking is becoming increasingly popular as an alternative to timber decking, thanks to its robustness, durability and aesthetic qualities. Made of a mixture of wood fibres and recycled material, it is extremely hardwearing and requires almost no maintenance, making it a great long-term investment. Fully waterproof and resistant to rot, it is ideal for use in high footfall areas or coastal locations that are subject to extreme weather conditions. Available in a wide range of colours, including greys, browns and a multitude of wood colours, it is ideal for achieving high impact, creative outdoor spaces, for those who want to make a statement with their garden design. This level of ultimate durability does come at a price with composite decking being the most expensive decking option. Having said that, with a lifespan of tens of times of softwood decking the high initial outlay means it will never need to be replaced.
No matter what kind of decking effect you want to create in your garden, we offer high quality materials, accessories and treatments to help you achieve your decking dream, and skilled tradesmen are on hand to offer their expert advice and guidance to ensure your project is a great success.
If you are unsure about which type of decking is right for you, please contact us for advice!