Benefits of Composite Decking
Tuesday, 1 February 2022 | Admin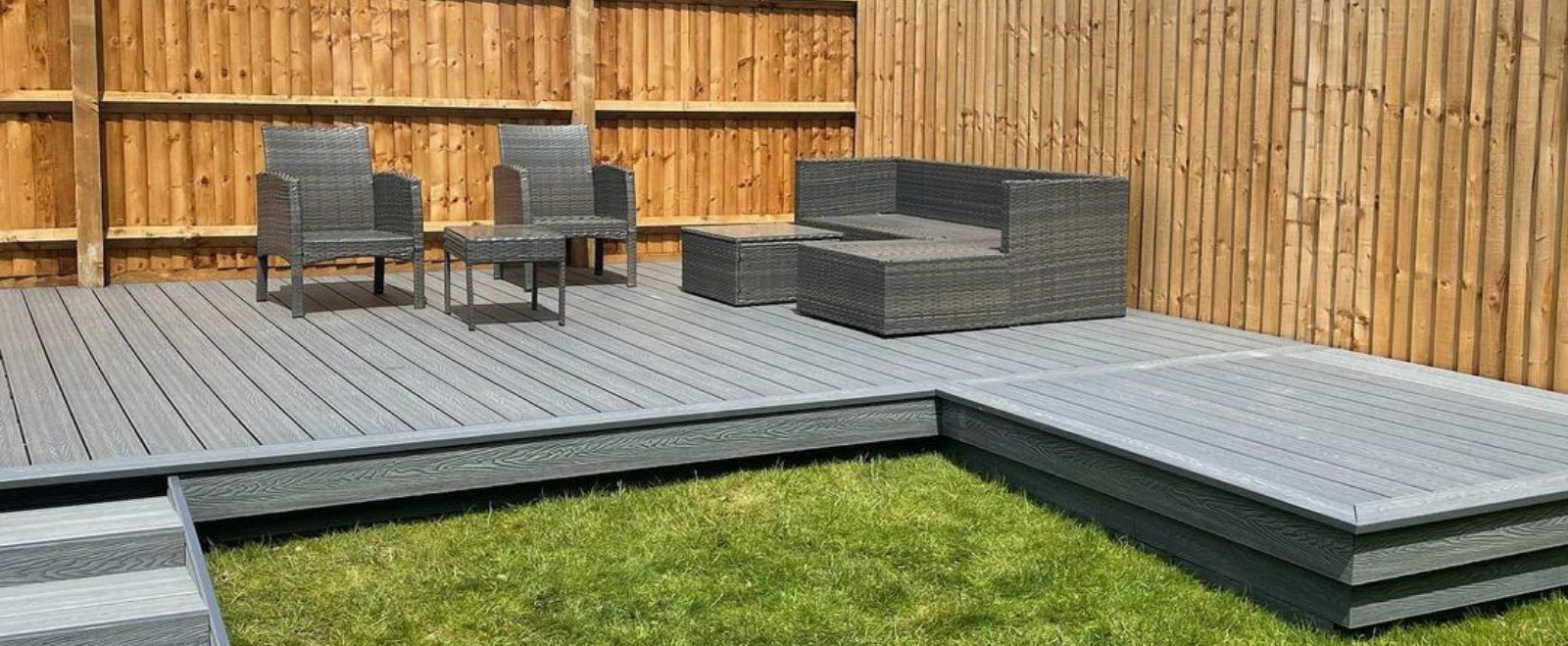 As the evenings start to get lighter, it won't be long before spring is here and focus turns to outdoor spaces and gardens. An important consideration in any outdoor space is which material to use in the patio/non-grass areas, to make the most of the space, both practically and aesthetically.
Decking is a popular option for many garden projects, and with a wide range of decking materials available these days, there's an option to suit every design style and budget.
At the top end of the price scale is
composite decking
; an extremely durable, waterproof and low maintenance deck, available in a range of surface textures and colours.
Made from wood fibres and largely recycled plastic, it's highly durable and long-lasting properties make it an eco-friendly option for those that don't want to sacrifice appearance and practicality for the environment.
A sophisticated manufacturing process means truly realistic surface textures can be achieved giving both clean, contemporary wood grains and rustic, weathered looking boards. You can choose from a wide range of colours, from natural wood colours such as light browns and creams and dark browns and reds that mimic tropical hardwoods, to on-trend greys and blacks giving a more contemporary look. Another attractive feature of composite decking is a fixing system that means no visible fixings; an often-unsightly feature of timber decking and a point for water ingress that can lead to premature rotting. Produced with grooves on both edges, a clip system ensures an even spacing between composite boards and screws hidden in between the boards.
A full range of accessories such as nose boards, balustrade, fascia boards and colour matched screws are also available to compliment the deck boards.
Here's just a few reasons composite decking has become so popular in recent years:
Natural varied colours mimic natural wood
Ultra-low maintenance; only requires occasional cleaning
UV, fade and stain resistant
Mould and moisture resistant
Environmentally friendly
Barefoot-friendly; slip and splinter resistant
Scratch resistant
Anti-microbial properties make it germ resistant & hygienic
With the increased availability of composite decking, prices have been falling for a number of years, making it more affordable than ever. With boards from as little as £21.95, what was once out of reach for many, is now an option for projects with a modest budget.
If you're considering composite decking for your project, pop in store and take a look at our vast range of deck boards and colour ways.
If you need further advice or help with choosing the right decking for your project, please contact us for advice!