Avoid slips on wet, mosey, decking with Anti-Slip decking
Tuesday, 1 March 2022 | Admin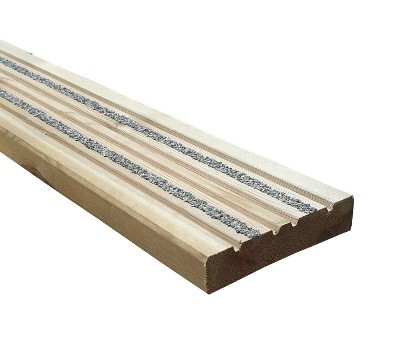 Despite the recent cold weather, you might be starting to think about getting back in your garden as it slowly comes back to life after winter. It can be great to get out in the fresh air but remember timber decking can be slippery when wet, especially if you get moss build up due to over hanging trees. The combination of wet wood and moss can be very slippery.
There is a solution that fits seamlessly with our standard softwood decking. Produced in the same size and profile as our 32mm x 125mm softwood decking, our anti-slip decking starts life as a standard deck board but contains two highly abrasive anti-slip inserts in two of the grooves in the board. A weatherproof resin is applied to the grooves then a coarse grit laid into the resin ensuring a safe grip underfoot when walked on.
Anti-slip decking works particularly well on steps and areas immediately outside doors where you take your first step out of your house onto the deck. This product can be fitted as part of a new deck and be placed in areas that are likely to be problematic, or retrofit them to an existing deck by removing existing boards from a problem area and replace them with anti-slip boards. Either way, the hardwearing, weather resistant surface will provide surefooted grip for years to come.
If you need further advice or help with choosing the right decking for your project, please contact us!