Tricoya Extreme High Performance Wood Panel

Imagine having an MDF panel truly durable and stable enough to use outside. With and without coatings it would enable simple manufacture and use in applications not previously contemplated for MDF. Imagine Tricoya, a new breed of MDF.
Tricoya® is a completely new, high performance MDF panel product. It demonstrates outstanding durability and dimensional stability in the most extreme and challenging environments – both exterior as well as interior, wet and high moisture applications. The product uses proprietary acetylated wood technology and a modified MDF manufacturing process to create a wood panel product with outstanding durability and stability.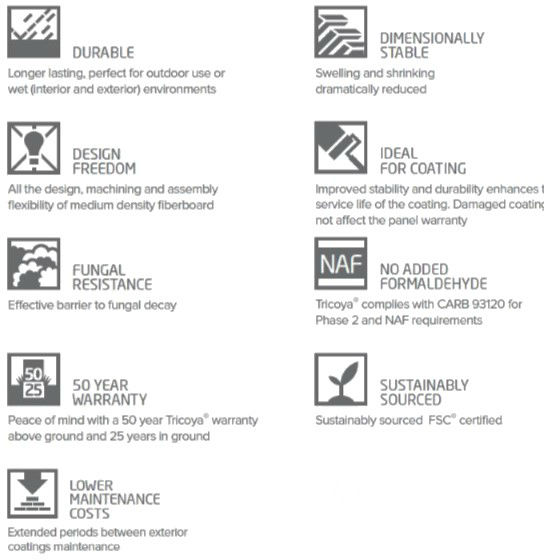 MEDITE TRICOYA EXTREME Durable MDF is a groundbreaking construction material.
The panel exhibits outstanding durability and dimensional stability which allow them to be used in applications once limited to products such as concrete, plastics or metals. With the added benefits of light weight, sustainable raw materials and a guarantee of up to 50 years above ground and 25 years in ground, these ground breaking panels provide architects, specifiers and designers with an entirely new construction material, allowing great design flexibility and endless opportunities for creativity.
The combination of acetylated wood fibre with the manufacturing technology of MEDITE MDF means it may now be used in situations and applications where normal MDF panels cannot. However, MEDITE TRICOYA EXTREME maintains all the design, fixing, machining flexibility of medium density fibreboards.
Using sustainably sourced FSC timber, MEDITE TRICOYA EXTREME is made using a high-performance resin which has zero added formaldehyde in its formulation, ensuring the product is suitable for environmentally sensitive areas.
Size:
2440 x 1220 in all thicknesses
3050 x 1220 in 12mm, 15mm & 18mm thickness
Other sizes available to order, subject to minimum order quantities.
Thickness:
4mm / 6mm / 9mm / 12mm / 15mm / 18mm
Applications:
The potential applications for MEDITE® TRICOYA® EXTREME are far ranging and will inspire creativity and discovery, particularly in environments where humidity and weather are usually concerns.
It is now possible to imagine MEDITE® TRICOYA® EXTREME used virtually anywhere :
Façade cladding/siding
Fascia and soffit panels and other secondary exterior applications
Window components
Door components and door skins
Wet interiors, including wall linings in swimming pools, bathrooms , wet rooms, changing rooms.....
Speciality furniture including lockers, cubicles, chairs and tables
Play frame, tree houses and exterior composite furniture
Signage